LowDown 2014
     I'm not sure how they do it, and I'm not complaining, but the Underground Kustomz crew continuously puts on a better and better show, year after year. This year saw the return of 1st, 2nd, and 3rd place trophies by classes. This is something that I personally feel is missing from the bigger shows. There are a lot of "Top" shows out on the scene, and I think that it has hurt the quality of the rides being built. So a BIG Thank You! to UK for bringing trophy classes back.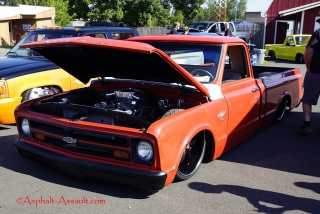 Once again, Underground Kustomz opened the gates up on Thursday at noon to get the ball rolling. Around 30 or so took advantage of this and took the time off of work to get in and stake out their campsites. Friday saw a pretty good size turnout, with Saturday bringing in the rest to top the 200 mark of registered show participants. Friday was also the beginning of the IASCA competitions, which finished up Saturday night.
This year brought visitors from as far away as North Dakota, and So Cal. No Regrets members Rory and Ashley Borho, brought their Toyota from Williston, North Dakota. Mike Alexander of Slam'd Mag, Brian Goude of Grinder TV, and Mark Porudominsky of Low Fi Air Systems made their way up to the NW from SoCal, to indulge themselves within a cornerstone of the NW mini truck scene. Mark also brought up his incredible 708hp MK4, and treated Corey and Allison each, to a "quick" little jaunt down the street.
Friday night was met with good friends, food and beverages creating an atmosphere of "family" that can only be compared to by the older truck runs. This camaraderie carries on through the rest of the weekend (and beyond), with anybody and everybody coming to the aid of anyone that needs assistance with their ride. Most of the time, they'll make sure your fed, and have a beverage or two.
Saturday morning came too soon. This is LowDown, and you need to get up early, get parked and get to polishing and cleaning your ride. The quantity of quality rides increases every year, and brings out the best in everyone. The UK crew definitely had their work cut out for them judging this year. While the judging was going on, other members of UK kept the crowd busy with club participation and individual events.
Of course, everyone's favorite event, the milk and diet soda chug was first on the list. With one participant giving up immediately by pouring a half gallon of milk over himself, the others took to the task at hand. It wasn't long before the previous night's alcohol disagreed with the moo juice. Only a couple were left at the end downing the diet soda, very gingerly. Rendall Allee managed to hold it down, beating out the rest. The Tug-o-war was handily taken by No Regrets this year. Duct tape musical chairs, which is the real crowd favorite, was absolutely a great time as always. Luke Spoenistram fought the hardest, and out lasted everyone else to be the last one with his ass in a chair at the very end.
With 5pm approaching, the public was ushered out and the Saturday night mayhem was about to begin. It started with anyone that wanted to cruise around for a bit, being able to. After a bit, the barriers were brought out and set up for the limbo/drag session This went on until the Dan Maxwell in his 1980 Chevy Luv was the last one under. Dan just beat out Jason Haase of Visions Car Club with his body dropped 65 4 door Impala. Full size truck in the limbo was won by Bubba from Modified Lifestyles.
After the limbo had run it's course, it was time for the Wet-T contest. Better known as "Skin to Win". A great crowd was on hand, a nice size purse ($1400) was raised for the Winner-take-all competition. With Huge Johnson spinning the tunes, the girls headed out onto the watering platform one by one, or in pairs. The crowd was really into it this year, and it made for some difficult eliminations. In the end, Ashley was the woman that worked the crowd the best and got the loudest cheers.
After the Wet-T contest was over, everyone headed back to their camps to park their rides and start walking and riding old school BMX's around and visiting with those that came in on Saturday. A great night of kickin' back and partying ended way to soon, as Sunday morning was approaching and so were the awards.
Sunday morning kicked off with the raffle, and 50/50 drawings. Once that was finished, the much anticipated return of trophy classes was upon us. Drum roll please…….
     Full Size, 1st: Ron – 67 C10
2nd: Geoff Rosenburger – 52 Chevy
3rd: Charles – 2000 F150
Mini, 1st: Dan Maxwell – 80 Chevy Luv
2nd: Nancy Pena-Reeves – Mighty Max
3rd: Chris Jurgenson – Mazda
Car, 1st: Shane Littrell – Caddy
2nd: Dallas Barber – Caprice Wagon
3rd: JP Brohan – Lincoln Continental
Old School:
     1st: Danny Sanchez – F100
2nd:  Pacific Styles – Datsun 620
3rd: Crash – GMC
     Wild; 1st: Kevin Rost – Tiki Mazda – Twisted Creations
2nd: Mel Brittain – 93 Toyota – No Affiliations
3rd: David Randall – 99 Frontier – Laugh Now Cry Later Minis
Mild; 1st: Brad McKinnon – 92 Toyota – Relaxed Atmosphere
2nd: Kenny Strong – 86 Mazda – Twisted Creations
Street; 1st: Rachel Wallis – 90 Mazda – Creative Minds
2nd: Andre – 96 Hardbody – Laugh Now Cry Later Minis
3rd: Dennis Bogle – 91 Hardbody – Ridiculous Rides
     Wild; 1st: Kyle Working – 88 Ranger
2nd: Jonathan Wilton – S10 – Sunset
3rd: Beth New – S10 – Class Act
Mild; 1st: Damen – 98 GMC Sonoma – Pacific Styles
2nd: Justin Olsen – 2001 S10 – Creative Minds
3rd: Robert – 96 S10 – Ridiculous Rides
Street; 1st: Woody – Ranger – Class Act
2nd: Andrew Lovell – 2001 S10
3rd: Malanie – 94 S10 – Twisted Creations
Compact Car: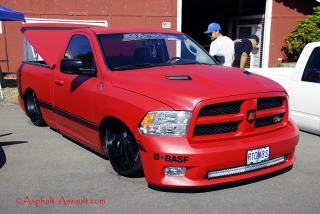 1st: Christopher Saeyup – 94 Supra – Speedmonkey
2nd: James Raber – 96 Dodge Avenger – Class Act
3rd: Will Nelson -2006 Mazda
     1st: Jason Haase – 65 Impala – Visions
2nd: Josh Tipton – 72 Chevelle – Sunset
3rd:  Freaks Charger – Freaks of Nature
Full Size Truck: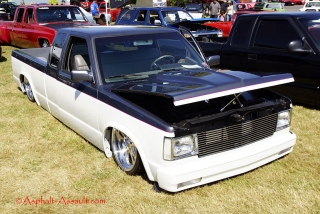 Wild; 1st: Lonnie Thompson – 2006 Silverado – Class Act
2nd: Joe Flip – 2002 Dakota – Twisted Creations
3rd: Melinda Young – F150 – Class Act
Mild; 1st: Dakota Thompson – 84 Silverado – Class Act
2nd: Richy Strong – 97 GMC – Twisted Creations
3rd: Nick Glenister – 2007 Sierra – Lay'd Out
1st: Jeremy Howard – 91 Astro – Freaks of Nature
2nd: Eric Gump – 89 Suburban – Twisted Creations
3rd: Danny Sanchez – 2002 Yukon – Modified Lifestyles
1st: Will Spier – Toyota – Magical Minis
2nd: Steve Harrington – 2008 Silverado – Twisted Creations
3rd: Jason Castaneda – 96 Suburban
Motorcycle:
1st: Cory Davis – 2003 Kawasaki – 30 Day Hold
2nd: Will Zekan – Rukus – Cam Winders
The specialty awards are as follows:
Bitch Clique – 2005 Colorado – Mike Young – Severed Ties
Slam'd Mag Choice – Jason Haase – 65 Impala – Visions
Club Choice – Brian Marshall – Nissan 720 – Relaxed Atmosphere
Club Participation – Class Act
Best of's are: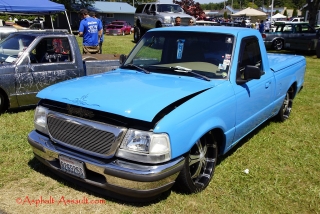 Engine – Ron – 67 C10
Suspension – Brian Goude – Airbag Trailer
Girl's Ride – Beth New – S10 – Class Act
Mod – Mike Amborn – S10 – Vette Motor – Relaxed Atmosphere
Stereo – Joe Flip – 2002 Dakota – Twisted Creations
Interior – Lonnie Thompson – 2006 Silverado – Class Act
Paint – Kevin Rost – Tiki Mazda – Twisted Creations
Car – Jason Haase – 65 Impala – Visions
Truck – Will Spier – Toyota 4×4 – Magical Minis
Underground Kustomz would like to thank everyone that came and helped make this year's show a bigger success than the previous year. They would also like to thank the following sponsors: Forever Powder Coating, Meguiars, Nitrous Express, Daystar, Blair Equipment, Hertz Rentals, Mad Rabbit Fabrication, 253 Fabrication, Bed Wood, Black Sock Mafia, Woodward Fab, Advantage Truck Accessories, Cool It Thermo Tee, Baer Brake Systems, ACC, Fluidamper, Lund, Trim Parts, Dynamat, Channel Lock, Painless Performance Products, Travis Chin with IASCA, Slam'd Mag, and Grinder TV.
A big thank you to the media coverage by Grinder TV, Asphalt-Assault.com, Slam'd Mag, and Common Treads.
Next year's LowDown marks its 10th Anniversary. And they've changed the weekend of the show! GoodGuys has their show on the same weekend as LowDown. So, in consideration for those that want to attend both events, and also for their sponsors who are at GoodGuys as well, Underground Kustomz has decided to move their show to the following week.  Dates are: July 30th – August 2nd. So do your best to get there for all 4 days, this ought to be one helluva weekend!